Surprise Santa this year with one of these delicious sweet treats! Baking is such a fun, family-friendly, festive activity. Get the kids in the kitchen and off their screens. Share the fruits of your labour with family, friends, and Santa! Make Santa's day this Christmas with these home baked treats!
Cookies
Cookies and milk are a match made in heaven. It's also one of Santa's favourite combinations. He loves to snack on some delicious cookies with his glass of milk. Whether it's chocolate chips, gingerbread, shortbread, peanut butter, or Oreos, Santa loves them all! Bake a homemade batch of cookies to sweeten Santa's Christmas Eve.
Fun fact time! The milk and cookies tradition started in the 1930s during the Great Depression. Parents wanted to teach their children the value of gratitude and the importance of sharing. Even when times are tough, you should share your blessings with others. What a great life lesson!
Classic Christmas Cake
Who doesn't love a traditional Christmas cake? Christmas cake is one of Santa's favourite desserts. It's a classic for a reason! This is a decadent dessert made with dried fruit and oranges. It's a crumbly cake that matures over time. You can enjoy your baked Christmas cake for months after you have made it! Santa loves to eat his classic Christmas cake with a glass of warm milk! Yum!
Make Santa Letters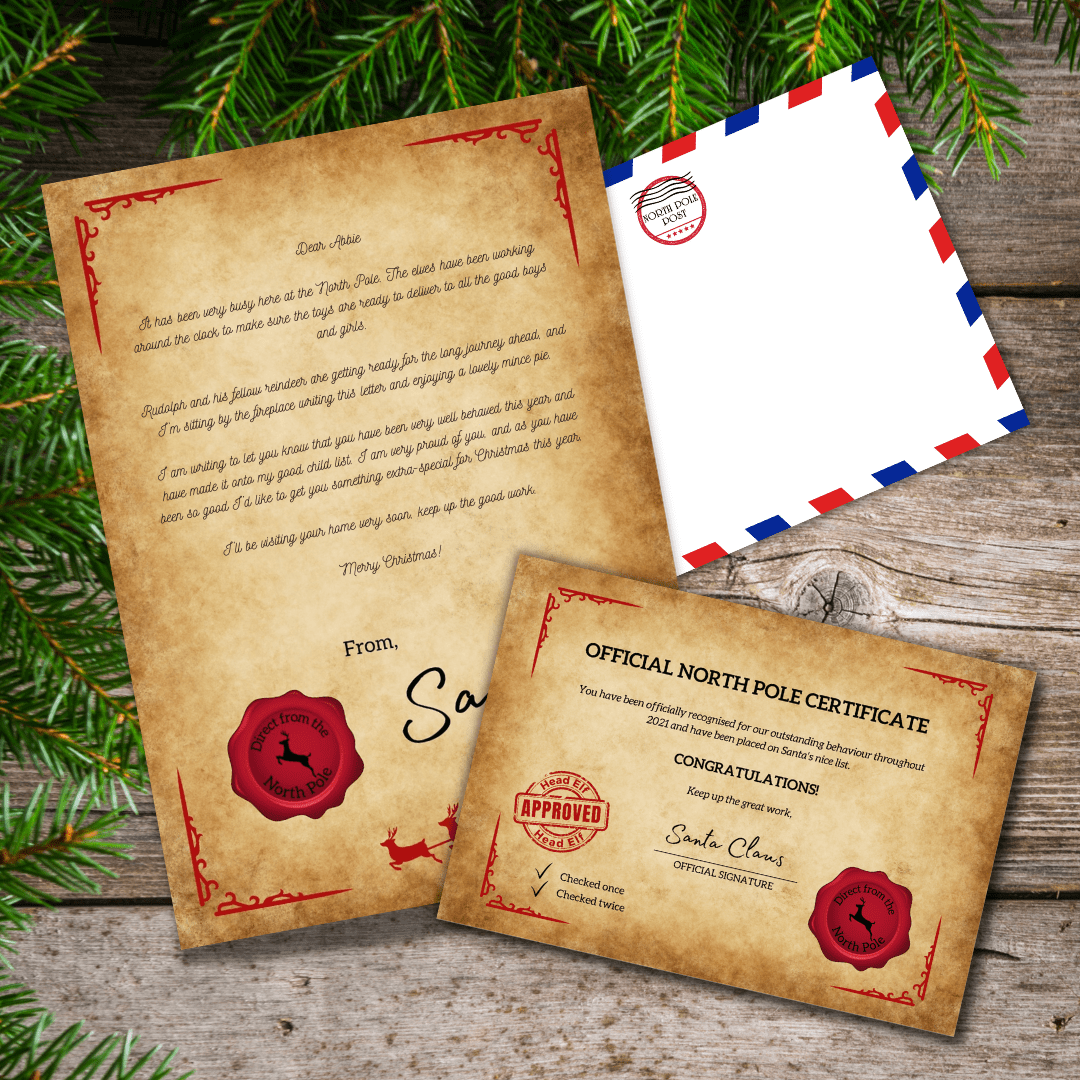 Ok, so it's technically not a baked treat. But, it would be remiss not to include one of our favourite craft activities! Making your own homemade Santa letters is a fun, festive activity for the whole family. All you need is some paper, colourful pens, and any other decorations you want to add. Santa loves receiving letters from children all over the world. He likes to know all the good things children have done, what presents they would like to receive, and what their favourite thing about Christmas is. A homemade Santa letter also shows Santa that your children are polite and considerate. They don't just care about presents, they also love spreading the Christmas spirit!
You could also consider a letter from Santa for your child to open any time during the Christmas build up, adding to the joy and magic!
Rice Pudding
Yep, you heard that right. Santa's a big fan of rice pudding. Santa eats rice pudding, also known as risengrod, while he's travelling through Denmark. Danish children believe that the mischievous elves Nisser and Tomte will cause havoc if they don't serve Santa risengrod. Risengrod is a hearty pick-me-up Santa loves to feast on while he's running errands through Denmark. Bake some rice pudding for Santa this Christmas Eve!
Pan de Pascua
Santa loves to stop in Chile as he gets treated to Pan de Pascua. This is actually one of Santa's favourite baked treats! Pan de Pascua is a Chilean delicacy. It is essentially a fruitcake made with cherries, coffee, dried fruit, and brandy. Yum! Santa loves to relax by the open fire while he enjoys a slice of Pan de Pascua. It doesn't get more festive than that! You can make a homemade Pan de Pascua cake as a fun holiday activity. Leave a little out for Santa and share the rest with your friends and family!
Mince Pies
What's more festive than mince pies? Like most people in the United Kingdom, Santa loves a mince pie with a hearty drizzle of cream. Mince pies are actually really easy to make! First, you need to cook some mincemeat with sultanas, apples, raisins, sugar, nutmeg, and cinnamon. Leave the mincemeat to cool while you make your pastry with flour, butter, sugar, and eggs. Roll out the pastry until it is thin and then transfer it into a muffin tray. Fill the pies with a tablespoon of mincemeat and cover with the pastry. Bake in the oven for 20 minutes until they are golden brown. Enjoy your homemade mince pies with your friends, family, and of course, Santa.
Carrots for the Reindeer
Don't forget to leave out a treat for Rudolf and his friends! Reindeer love fresh, crunchy carrots. They also love homemade carrot cake. Carrot cake is a delicious treat Santa and the reindeer will both enjoy! Carrot cake is made with lots of carrots and walnuts, as well as a yummy cream cheese icing. Carrot cake will definitely go down a treat during the holidays!
Homemade Oat Sprinkle
Do you think you've been missed from Santa's nice list? Encourage the reindeers to your house with a homemade oat sprinkle. Children all over the world swear by this mixture of oats, brown sugar, and Christmas sprinkles to tempt (and welcome) reindeer. Even if Santa wants to bypass your house this Christmas, the reindeer will make the stop anyway. Whether you're on the naughty or the nice list this year, the homemade oat sprinkle will be adored by Dasher, Dancer, Prancer, Vixen, Comet, Cupid, Donner, Blitzen, and, of course, Rudolph.
DIY Hot Cocoa Kit
Santa will love a DIY hot cocoa kit to take home with him to the North Pole. A DIY hot cocoa kit will also make a perfect gift! Purchase glass jars or try to find some lying around your kitchen. Next, layer the ingredients in the jars. Your first layer should be crushed milk chocolate, followed by cocoa powder and crushed candy canes. Finally, top with mini marshmallows. Decorate the jars with ribbons and personalised name tags. Your DIY hot cocoa kits are ready to be gifted to your friends, family, or Santa.
Gingerbread Men
Gingerbread men are a delicious Christmas tradition! It's so much fun to bake a batch of delicious gingerbread men, decorate them in Christmas colours, and then share them with your family, friends, and Santa. The best part is that gingerbread men are super easy to make! The base is just a combination of flour, sugar, butter, and various spices! You can decorate the gingerbread men with icing, sprinkles, chocolate, or sweets! You can even get creative and decorate the gingerbread men in beautiful little Christmas inspired outfits.