Introduction
Finding the perfect gift can be hard work! We've done all the hard work for you and found the best Christmas gifts under 10 pounds. Say goodbye to expensive and unimaginative gifts. This is how to stock your stocking up on a budget while not sacrificing on quality! Read on to find the best affordable gift ideas in the UK…
Letter from Santa
Get crafty and make your loved one a special letter from Santa! Accessorise it to your heart's content with festive decorations! Inside, you can tell the recipient whether they have been naughty or nice this year!
You can even make the letter official with an authorised North-Pole postage stamp! For an extra special touch, sign Father Christmas's name at the bottom. This low-cost gift is guaranteed to be loved!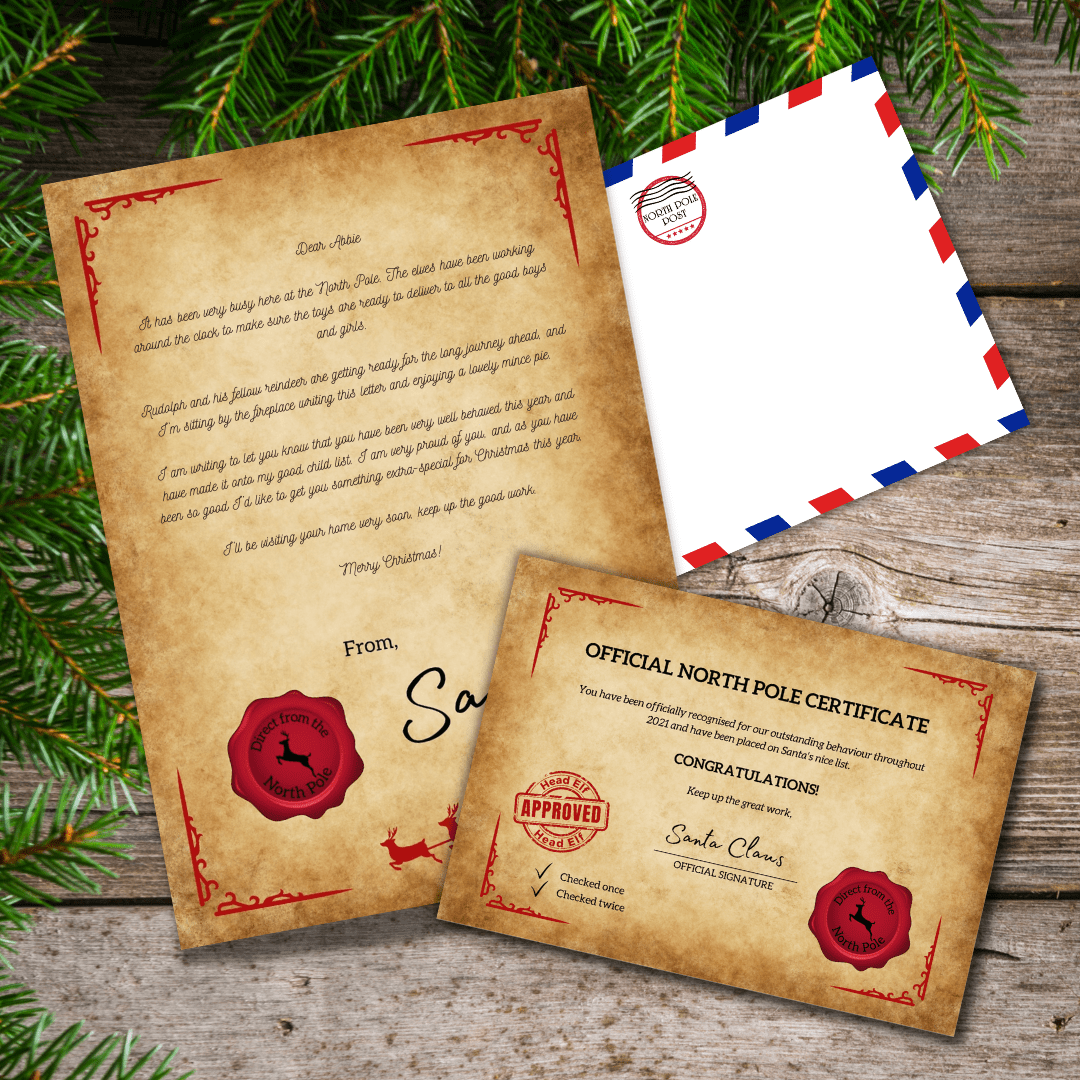 Reindeer Food
Gift some reindeer food for Rudolf and his friends this year. The reindeer certainly deserve a special treat after they have been galloping all over the world delivering presents. This affordable stocking stuffer will be sure to put a smile on everyone's face! 
Bath Salts
Give the gift of self-care this Christmas. Treat your friend to a luxurious night-in with some gorgeous bath salts. Bath salts ease tension in the body and help with sleep. They also smell amazing! Bath salts are a perfect Christmas gift for under £10
Home Fragrance
Who doesn't love a fragrant house? There is always a range of scents to choose from. Pick one that will suit the person's vibe and home. This could become a signature scent for them. It's a big responsibility so choose wisely!. A home fragrance will be appreciated everyday making it worth every penny!
DIY Bracelet
Make a DIY beaded bracelet for the person you love! You can make a bracelet in under an hour with minimal equipment. Personalise the bracelet with your friend's favourite colours and shapes. You can even spell out their name with letter beads. It'll be a unique gift they will treasure for life!
Christmas Cards
You can easily make Christmas cards for the people you love for under £10. Decorate the cards with pictures of snowmen, candy canes, Santa Claus, Christmas trees, or a nativity scene. Write personalised messages to the recipient inside to make their day! 
Photo Frames
Photo frames can be found in a range of shapes, sizes, and colours. You can always find a beautiful gift for under £10. You can even add a special picture of you and your friend inside. Gift a photo frame and make special memories last forever. 
Flowers
Flowers always make someone feel warm and fuzzy. Purchase a collection of someone's favourite flowers this Christmas! Flowers really are perfect for all occasions. 
Home Accessories
There are so many home accessories under £10. You can gift your loved one a frame, vase, trinket tray, jewellery box, or a plant pot for Christmas. Browse your local gift shop to find the perfect home accessory!
Novelty Mugs
Novelty mugs are such a fun, cheap gift stocking stuffer. Find one that will spark a little joy while your friend drinks their morning cup of coffee everyday. 
Winter Scarf
Make sure your loved ones stay nice and cosy this winter with a gorgeous scarf! You can either knit your own, find a discounted one, or scavenge for one at a charity shop. Either way, this is a beautiful gift for under £10. 
Christmas Decorations
You can never have enough Christmas decorations right? Right! Bring some Christmas love to people's lives with beautiful decorations. 
Vase
Vases always come in handy! Shop for a vase that has character and practicality. You can purchase vases in different shapes, colours, and sizes. The hardest part is choosing your favourite one!
Keyring
A keyring is a cheap, thoughtful gift that will go down a treat at Christmas. Try to find a keyring that is playful and fun!
Food Hamper
A food hamper is a fabulous edible treat. You can make one yourself and fill it with your friend's favourite snacks. Or, you can purchase a small hamper from your local food grocer. 
Stationery
Purchase some new stationery from your friends and family this Christmas. Collections of pens, pencils, and notebooks are a super useful gift. Make sure you find a brand that does cute and colourful stationery!
Board Games
You could gift someone a classic game like Monopoly, or go for something modern and unusual. You're spoilt for choice!
Bread Basket
Gift your loved one a beautiful wicker basket filled with baguettes, sourdough, brioche, and focaccia!
Look for Discounts and Deals
Sales, free delivery, discounts, and deals, can all help you find a great gift for under £10. You will discover so many amazing deals when you strategically search for them. Low price gifts can take a little longer to find, but your bank account will definitely thank you for it!
Subscribe to the email lists of places you like to shop. This helps you stay on top of what's on sale and when. It's a good idea to start Christmas shopping when you see offers like "10% off your first order" or "free delivery".
Socks
Socks are a quintessential, cheap, and cheerful Christmas gift!
Sweets
Sweets always make someone's day better. And, they're a great stocking stuffer for under £10!
Book
Give the gift of education and self-development this Christmas! Purchase a book that will enlighten or entertain your friend. Just remember to read the reviews first!
Chocolate
Chocolate boxes are a fantastic stocking stuffer under £10. Nobody has ever said no to a delicious selection of chocolate!
Reed Diffuser
A reed diffuser is a chic accessory that also fills your home with a glorious fragrance. They are the perfect gift that screams luxury!
Luxury Tea Bag Collection
Get the tea-lover in your life a boutique selection of tea bags or tea leaves. Try to find a couple of flavours that they haven't tried before!
Glasswear
Cute water glasses or wine glasses are an incredibly useful gift. We recommend finding a set that matches the aesthetics of the receiver's kitchen!
Candles
Candles will help your friends and family relax after a long, hard day. If you want to give a candle, act fast, you don't want to miss out on the most popular scents! 
Kids Toys
Fill a stocking with toys for the wee one in your life. You'll be able to hear the shrieks of joy from miles away!
Watches
Watches are mistakenly considered uber expensive. You can actually find a great second-hand watch or purchase one on sale. Watches are a lovely, meaningful gift. You'll be remembered whenever they glance down at their wrist!
Single Origin Coffee Beans
The caffeine addict in your life will love this gift!
Cupcakes
A dozen cupcakes, decorated with Christmas colours, are a low-cost alternative to a cake! You can make them at home or purchase a dozen from your nearest bakery.
Wine
Fancy wine is on sale somewhere, you may just have to hunt around a bit. It'll definitely be worth it when you find the perfect bottle to enjoy at Christmas .
Handwritten Letter
Tell your loved ones exactly why they're so special in a handwritten letter!
Scrapbook
A scrapbook will be adored by any creative people in your life. Every empty page in the book is waiting to be filled with memories and special moments!
Gifts Bags
Remember those gift bags you used to get after a party when you were little? This is the grown-up, Christmas equivalent!
Garden Spade
Every avid garden needs a cute garden spade!
Beauty Products
Beauty products are often on sale! Find a vibrant lipstick or colourful eyeshadow palette to give the beauty-lover in your life.
Notebook
Notebooks are a fantastic stocking stuffer for the person in your life who loves making lists!
Water Bottle
Everyone needs to stay hydrated!
Baby Accessories
Baby accessories are generally pretty cheap! New parents are forever in need of more onesies, bottles, and dummies. Stuff their stocking with accessories they actually need!
And That's How You Stock up Your Stocking for Under £10
And that's how you stock up your stocking for under £10. Save this list for whenever you're looking to save some serious money on Christmas or birthday gifts!
Don't break the bank on gifts for a second longer!