Santa is a global phenomenon who is cherished by the young and old throughout all corners of the world. Bringing joy and cheer during the festive season, Christmas simply wouldn't be Christmas without him! Believing in Santa is a right of passage for most little ones and creates a sense of magic and wonder for children as they excitedly await his arrival on Christmas Eve. A belief in Santa can aid a child's imagination and spark creativity as they grow and develop, meaning that he is a character who can actually help support your child's development. On average, children stop believing in Santa around 8 years old, so it is important to make the most of those precious first few Christmases.
In this article, we're going to run through some of the characteristics that make Santa a wonderful person to talk about in your home, as well as the great benefits that keeping the magic alive can have for your kids. Without further ado, let's talk about our favourite jelly-bellied friend!
Keeping the magic alive

At some point throughout the life of your young child, it's quite likely they may start to stop believing in the big man. This is part of the natural growth of a child, of course, but it also means that they can lose a little something, leading to a loss of imagination and excitement at that special time of year.
Here, we're going to share a couple of great ways that we've seen online to keep the magic alive for your little ones, no matter what.
Boot prints
Boot prints in your home are one of the best ways to tell your child that Santa really has visited. This might sound a little strange, but the reason we really love it as a technique is that it shows them something that they can physically touch. A bite taken out of a carrot by Rudolph is lovely, but they can't touch a lack of something.

Boot prints on the carpet, however, can provide a physical thing that your little ones can see, touch, and interact with.
An example of how to create this is to use boots which have been dipped in flour or sugar. This can create the impression of snow and suggest that Santa has travelled all the way from the North Pole. We recommend laying down an old sheet or floor covering if you are doing this option so you can protect your carpet or floor!
Alternatively, you could use artificial snow spray and a stencil. This can allow you to easily create boot prints with a unique shape and detailing, while also being easy to clean up – it's made to be temporary, after all.
Letter From Santa on Christmas Eve!
Part of the magic of Santa is the fact that children feel like they have a personal connection with him. Making a list of presents they want and sending it off to the North Pole is a fun and exciting activity to do in the run up to the big day, but have you thought about how excited your little ones would be if they received a letter back?
Creating a personalised letter from Santa is an incredible way to keep the magic alive – you can write your very own message and refer to things in your child's like to make it seem as realistic as possible, for example mention their school, siblings, pets or even their favourite hobbies or food. Leave the letter for them out on Christmas Eve and watch their little faces light up as they realise that Santa has written to them!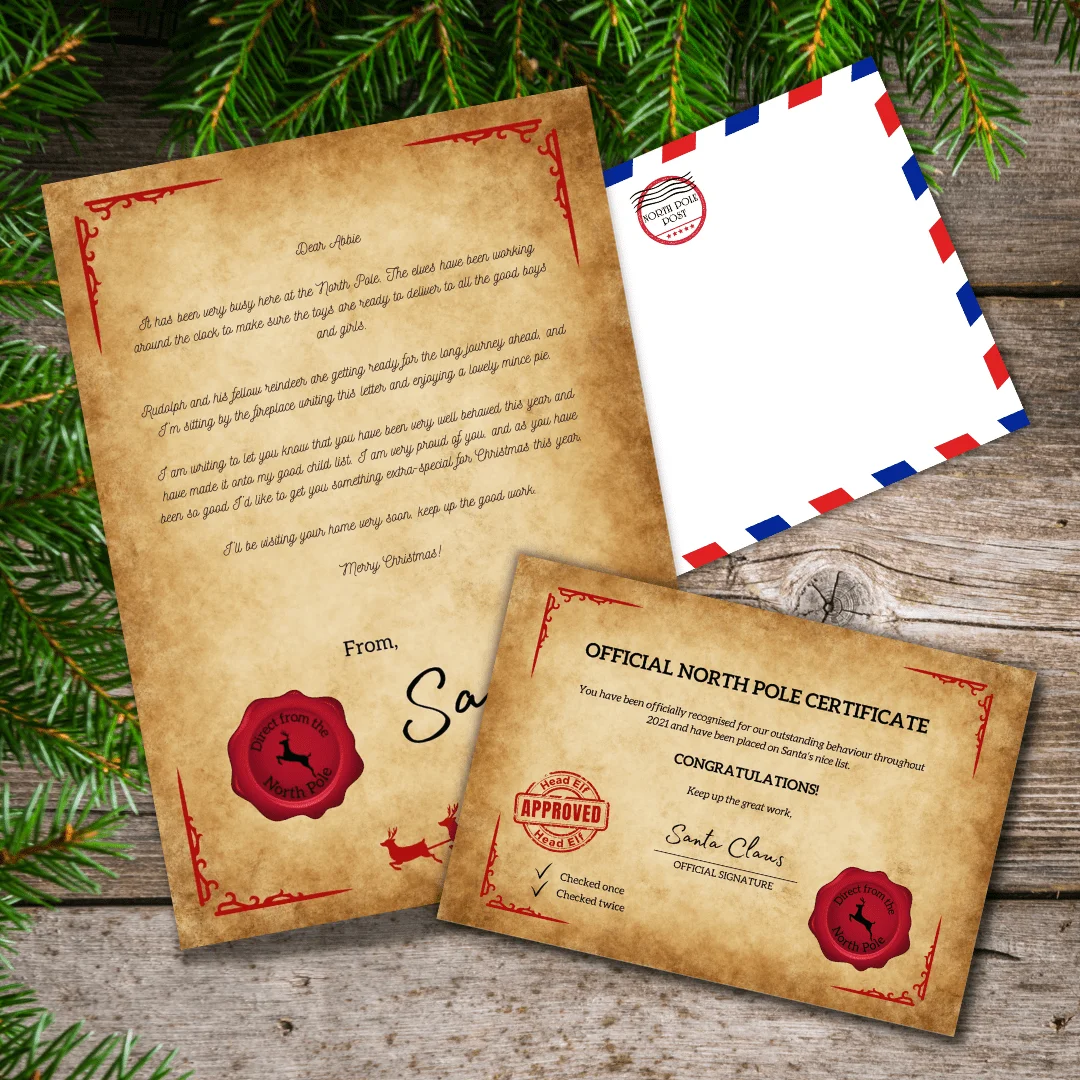 Mince pie and milk
Mince pies and milk are the classic choice, and most families will leave some out for the big man on Christmas Eve to ensure that he doesn't go hungry or thirsty on his travels around the world. To be sure that the mince pies and milk are as Santa-riffic as they can be, you might consider serving them along with a short note.
The note doesn't have to be anything particularly complex, but rather a short thank you from the little one that might be receiving gifts. While Santa obviously won't be receiving anything, it's nice for your little one to learn about thanking people that do things for them. Plus, if you put the young one to bed very early, you might be able to go and source an extra gift based on something that they put in the note!
Correspondence with elves
Corresponding with elves is a great way for your little one to feel an awful lot more engaged in the Christmas process. They can make friends with the elves that they write to, introducing themselves and their hobbies, before leaving the letter somewhere in your home that might make an ideal post box style location.
Then, when your child or children are in bed, you can read through the letter and write them a reply. A great way to make the note appear a little more magical is to pair it up with the elf-on-a-shelf idea that a number of homes around the world have embraced.
If your elf 'delivers' and 'writes' the message, then your children might be a little more inclined to speak to the elf, and engage with the activity!
Imagination and creativity at school
When kids are at school, one of the number one things that they have at their disposal is their sense of creativity and imagination. There are a hundred and one ways that you can see this, but perhaps the most obvious one is when making friends.
By keeping the magic of Santa alive for your kids, you allow them to learn a thing or two about telling a story and seeing wonderful things around them. That can really help them to engage in imaginative play with their friends, allowing them a boost in their world.
This boost in the playground will help them to develop a wide range of social skills that will help them for a long, long time to come, from when they're in school to when they leave to go on into adulthood. Laying a good foundation with powerful social skills is vitally important.
Finding the magic in the mundane
Helping your kids to see the magic in the mundane world around them can be an utterly wonderful way to see the many things that they love to see in the world. This might sound a little strange, but let us explain.
By explaining to your child that Santa is responsible for a number of the best things in the world around them, and then asking what they might think Santa does, you can see what they love in the world. If they share that they think Santa might help to make flowers colourful, you could make up a little 'Santa secret' to explain away just how he does that.
We hope that this short article has shared a few great ways that you can help your little ones continue to believe in Santa – the benefits can be truly magical!